Social Engagement Benefits
Your social media followers and patients will be excited for you!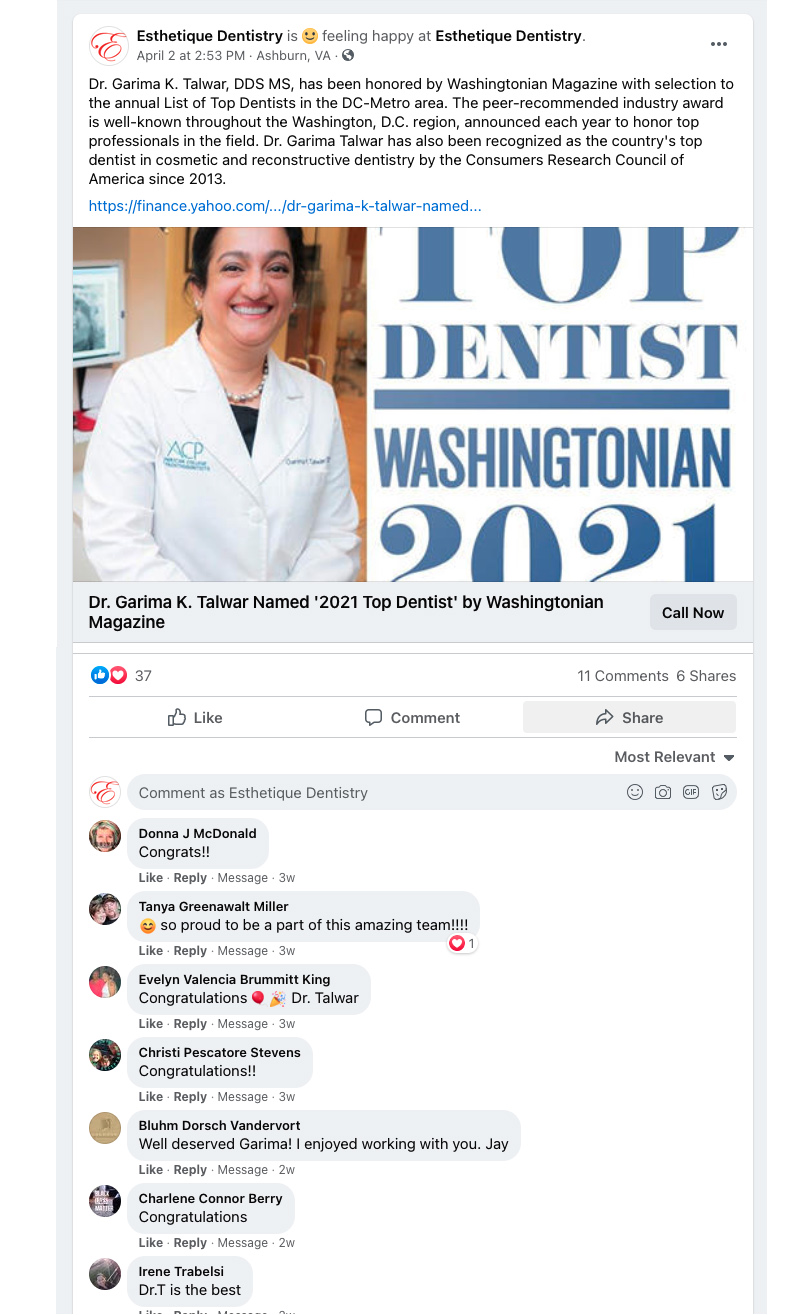 Informative Description
A quick summary description of the PR for the Facebook followers to share.
Catchy Image
Images are key drivers in a successful social media campaign. They should be interesting, creative and engaging to maximize engagement with the product or service being sold.
Social Engagement
Social proof is crucial and can help potential patients decide if this particular post is worth of their time.
Comments and Shares
Social media engagement creates an indirect referral loop with followers celebrating the provider with comments and others sharing this post.
Feedback
Commenting feature further solidifies the expertise of the provider and helps others decide to contact the provider for dental care.
PR
$

119

PR
Professionally Written PR
Publish on your own blog
Published on FeaturedDentist.com
Linked to your website
Ranks on Google
National distribution to Yahoo News, Google News, CBS, NBC and Fox affiliates 100+ media sites
Promote on Social Media (Facebook, Instagram, Linkedin, Google My Business..)
Order Press Release
Single
Popular
$

495

PR
1 X Professionally Written PR
Publish on your own blog
Published on FeaturedDentist.com
Linked to your website
Ranks on Google
1 X National distribution to Yahoo News, Google News, CBS, NBC and Fox affiliates 100+ media sites
Promote on Social Media (Facebook, Instagram, Linkedin, Google My Business..)
Order Media Coverage
Multiple
$

949

2 PRs (10% OFF)
2 X Professionally Written PRs
Publish on your blog
Published on FeaturedDentist.com
Linked to your website
Ranks on Google
2 X National distributions to Yahoo News, Google News, CBS, NBC and Fox affiliates 100+ media sites
Promote on Social Media (Facebook, Instagram, Linkedin, Google My Business..)
Order Media Coverage